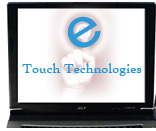 E-Touch Technologies is one of the Pioneers in Touch Screens & Touch Monitors. E-Touch offers 4 types of Touch Screen products in SAW / Infrared / Resistive (4W) / Resistive (5W) for different applications. Other than Touch Screens E-Touch also offers POS / Kiosk Peripherals & related Software.
E Touch Technologies started of as a Touch Screen supplier and kiosk peripherals in Mumbai, with the aim of offering "prompt & quality" services require by the customers

Product & Services @ Glance
eTouch Technologies, the global leader in touch technology, Develops and markets a complete line of touch screen and touch Monitor products. E Touch offers the largest selection of touch screen technologies, CRT touch monitors, and LCD touch monitors and carefully designs each product for the demanding requirements of diverse applications, such as industrial, medical, POS, kiosks, retail, hospitality, transportation, office automation, and gaming.

We are one of the largest Touch screen And Kiosk/ POS peripheral leader In India. We have all size & Technology Touch screen product started with 5.4" To 60". We are the only one people in India who can repair SAW Touch screen In-house.